WATER HARVESTING / INNOVATIVE IRRIGATION SYSTEMS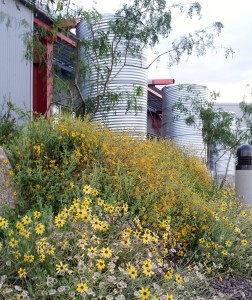 It is an undeniable reality that the desert Southwest is one of the most unique and environmentally challenging ecological communities in the world. It is as extreme in biological diversity as it is remarkable in providing its residents the opportunity for experiencing the limits of their imaginations and enjoyment. Among the varied expressions of this unique environmental condition stands the Saguaro cactus.
The challenging and distinctively sensitive conditions found here in the southwest, joined with the critical demands for preserving/conserving our water resources in an economy that presents its own challenges, speaks to the need of moving away from conventional design practices towards new and innovative design and implementation methods / technology.
ARC Studios has been at the forefront of inventive water harvesting and irrigation design practices as well as resourceful implementation methodologies. ARC Studios prioritizes the incorporation of comprehensive water harvesting and sustainable design principles on all projects. The limits of design and the subsequent application in construction can be coordinated and adjusted in accordance with the project budget and client requirements. Water harvesting can be achieved through incorporating alternate/multiple passive, to varying levels of active systems. Responsive, project sensitive designs are system integrated from site conditions and client needs, plant species selection and innovative irrigation design applications.
The essence of this process is predicated on detailed data collection, calculation, evaluation, documentation and design integration of the flow of storm water runoff, using the civil engineers and architects calculations from roof/structural drainage, hardscape, and landscape areas. Designs are further developed by the utilization of select vegetative species and their individual water requirements. Plant selection is carefully evaluated and appropriate for the site; approved by client/user/stake-holder groups, while remaining responsive to surrounding habitats. Landscape vegetation selection emphasizes native, site indigenous and drought tolerant species. The reduction and sensitive / discerning design of hardscape elements and the promotion of permeable pavements and subterranean water retention systems in conjunction with non-standardized / innovative irrigation systems, provides a responsible and measurable address to the environmentally challenging, economic and sustainability requirements of our desert southwest community.
An outline summary of this process is provided below, though inclusive, is not limited to the identified elements.
NOTE: Final design and construction implementation levels can be coordinated and adjusted in accordance with the project budget and agency / client requirements and approval.
Passive System Elements:
Design recommendations for depressed landscape areas at a minimum of 6" and if applicable, of 12" or greater.
Improve site soil percolation, absorption and retention characteristics.
Provide landscape swales to convey storm flows to catch basins, inventive below grade storm water collection, retention and absorption structures.
Slow surface flow and promote soil percolation.
Use of straw mats, wattles, straw bales and coco fiber mats to absorb and retain moisture.
Use of earthen ridges, bench ridges and rock ridges to retain water and mitigate site erosion while maximizing site water retention.
Encourage storm water use through a comprehensive overall site distribution design as appose to concentrated retention structures.
Basin site design with multiple points from percolation.
Basin site design with organic materials, reducing mined / imported materials and encourage moisture retention.
Semi-active System Elements:
Storm water directed to proposed vegetation through a gravel trench and trench drainage, which is connect to gravel sumps and vertical water retention pit structures near plants that have the highest water requirements.
Encourage the use of infiltrators and water storage that will dissipate as soil moisture decreases.
Active System Elements:
Use of above and below ground water directional, captive and retentive structures to utilize available storm and irrigation applied water for use during dry seasons.
Creative project design allowing the adaptive/multiple use and increased function of structural elements for purposeful user accommodations as well as site water redirection and retention purposes, providing significant cost savings to the agency / client.
Active water harvesting and irrigation system design applications predicated on hands free, maintenance free principles, providing additional economy and efficiency for the owner.
Holistic / environmentally sensitive design approach – plant selection, water collection, water retention/detention, storage, and redistribution.
Innovative Irrigation Design, Details and Specifications – Supplemental water distribution based on the plants uniquely individual and estimated water requirements for optimal plant development and establishment. The site specific project design is married to evaporation-transpiration (evapotranspiration) (ET) rates, ET sensors and data, soil moisture sensors, soil water retention characteristics, monthly / annual rainfall calculations, state of the art irrigation design/controller applications and integrative construction methodologies.
As may be required by agency / client, the use of active subterranean storage tank systems can be incorporated as an additional harvesting and site water management consideration.
SUMMARY
ARC Studios is genuinely dedicated to Best Management Practices and Project Quality Control applied methodologies. Coupled with a thoughtful address to client needs, a detailed site sensitive design approach, an intimate project understanding process and innovative / state of the art design principles, ARC Studios provides measureable project success in addressing the growing need for economically responsive, sustainable water resource management. In conjunction with the abovementioned innovative/proactive approach and with a proven, experience based business management philosophy, ARC Studios predicates its success in remaining a viable and competitive Landscape Architecture services firm in a challenging economic environment.